RENO QRP SLOW SPEED CW NET
NEXT NET SESSION WILL BE ON
next net 30 November
FOR THE NOVEMBER RENO QRP SLOW SPEED NET
ANNOUNCEMENT
NOTE NEW STARTING TIME 11:00 AM
NEXT NET SESSION WILL BE ON
THURSDAY NOVEMBER 16, 2023
AT 11:00 AM AT 7.045 MHz
If frequency in use search somewhere near 7.045
NET CONTROLLER NOW OPERATES AT 10 WATTS
THE FOLLOWING SHOULD ALWAYS BE IN YOU REPORT
NAME RST LOCATION RIG POWER ANTENNA
Feel Free to Add Other Info If You Like
IF YOU WANT TO CHECK IN BUT CAN'T STAY
SEND I/O AFTER YOUR CALL
CHECK IN AND JOIN YOUR FRIENDS ON THE AIR
Ed/WD7Y
AT 10:00 AM AT 7.045 MHz
Thanks Ed/WD7Y
If frequency in use search somewhere near that frequency
NET CONTROLLER NOW OPERATES AT 10 WATTS
IF YOU WANT TO CHECK IN BUT CAN'T STAY SEND
IO (In /Out) AFTER YOUR CALL
CQ CQ CQ QR P NET DE W7FST PSE QNI K
QNS (A7XXX WB7XXX)
CQ CQ CQ QRP NET DE W7FST PSE QNI K
QNS (W7XXX WB7XXX K7XXX WA7XXX)
TNX ALL QNI TO RENO SLOW SPEED QND NET QNN ED/WD7Y
(QTH HIDDEN VALLEY PARK RENO NV RIG KX3 AT 10 WATTS
ANT EFHW)
ALL QNI WILL BE CALLED IN THIS ORDER
QNS (W7XXX WB7XXX K7XXX WA7XXX)
(W7XXX) DE W7FST KN (FIRST QNI)
(W7XXX) NAME VAN RST 599 ETC ………………BK
BK TNX VAN UR 599……… NOW TO
(WA7XXX DE W7FST KN (LAST QNI)
(WA7XXX) NAME BOB RST 559……………..BK
BK TNX BOB
NOW FOR LAST CALL
CQ CQ CQ QRP NET DE W7FST PSE QNI K
ANY LAST COMMENTS ? K
TNX ALL QNI FOR YOUR COMMENTS 73/72
QND IS NOW CLOSED DE W7FST ..
CHECK IN AND JOIN YOUR FRIENDS ON THE AIR AND HAVE FUN
Hope to hear you all again. 73/72 Ed/WD7Y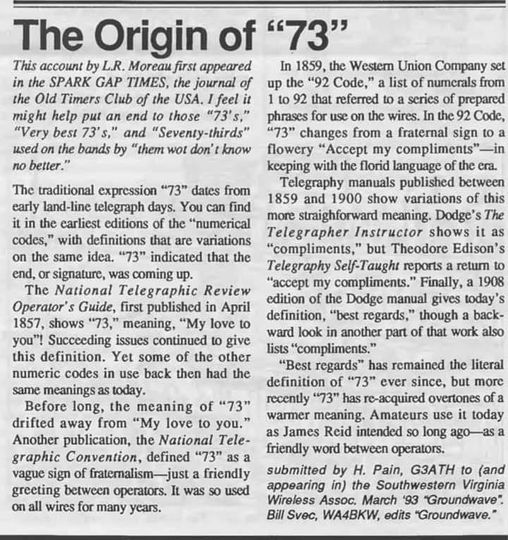 RENO QRP GROUP SLOW SPEED CW QRP NET REPORT
Hi all;
The log of our last slow speed NET November 16, 2023 is attached.
The NET was held form Hidden Valley the weather was cloudy and calm temp about 50 f. NET started on time at 11:00 am on 7.045 MHZ. The noise level was high at time a buzzing sound between S4 to S7. The SFI 119 A index 12 index 2 Xray B9.6.
There was only 3 QNI today Van W7IEX, Joe KM6HJP, Derek W7DLZ
First up was Van from his home in south Reno using his FT DX 3K at 10 watts.
Van was solid copy at 599 using his FT DX 3K at ten watts into his vertical.
Next was Joe from Doyle, CA but didn't come back when called.
Then it was Dereck's turn reporting from his home in Lemmon Valley.
Derek uses the FT DX 10 at ten watts he was solid at 599 to me. Derek gave RST reports and the weather.
At last comments Joe KM6HJP from Doyle, CA gave his report he copied me at 339, unlike two weeks ago we were both 599. Joe was using his IC 7300 at 10 watts into his inverted L at 40 ft.
The next NET will be Nov. 30, 2023, starting at 11:00 AM
STARTING TIME IN NOVEMBER IS NOW 11:00 AM
I have some good news to share with all Bob KA6NSN after being in the hospital for a very long time is finally back home.
One last thing I am wishing you all a happy Thanks Giving.
Hope to hear you all again. 73/72 Ed/WD7Y
One last thing is a reminder to all new commers to the NET.
After you call me listen to when I call QNS after that I send the calls that are checked in. If you don't hear your call send it again when I call CQ. You may need to do that 3, or 4 times. I call CQ until I don't hear any more calls.